Charity Car Program

Thank you for choosing CharityCars.ca and GreenVehicleDisposal.com's Vehicle Donation and Disposal program. We will process your form and then you will be contacted very soon by email or phone with reference to the setting up of your organization as one of our preferred charities.
You may close this window now that you are finished with your vehicle pick up request.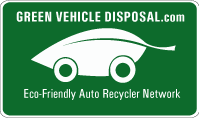 Our partner Green Vehicle Disposal is North America's largest network of self-regulated Auto Recycling Facilities. Our Purpose is to provide our valued customers, with an Eco-Friendly solution for the disposal of old vehicles. All vehicles donated through CharityCar.ca are disposed of in an eco-friendly manner which meets and exceeds all provincial recycling rules.