PAL Parent Assistance Line Inc.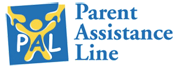 Because no child comes with a manual, it helps to have someone to talk to Parents just do the best they can, often very successfully. Eventually we all encounter something we don't know how to handle well - that's where PAL can help. We will provide parenting support to you, when you need it and where you need it.
Vehicle Donation Quotation Form
Please note: By filling out the form below you are not committed to donating your car. Filling out this form will allow us to contact you with a quote on the price the charity of your choice will receive for your vehicle. All personal data is kept strictly private and will never be sold.