Kruising for Keely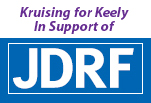 We are the family and friends of Keely, our group founder's 7-year-old daughter who was diagnosed with Juvenile Diabetes shortly after her 2nd birthday. We are lacing our sneakers, riding our bikes, and doing pretty much anything else we can think of to raise awareness and funds for the Juvenile Diabetes Research Foundation (Canada). We are hopeful that a cure will be available by the time Keely reaches high school, if not much sooner. Thank you for your support!"
Vehicle Donation Quotation Form
Please note: By filling out the form below you are not committed to donating your car. Filling out this form will allow us to contact you with a quote on the price the charity of your choice will receive for your vehicle. All personal data is kept strictly private and will never be sold.