Habitat for Humanity Windsor Essex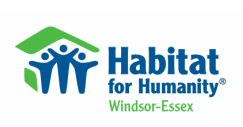 Habitat for Humanity Windsor-Essex helps low-income families build and buy simple, decent quality affordable homes though a no-interest, no-profit mortgage with payments set at less than 30 percent of gross income. This solution not only helps to provide available housing for families in need, it enables low-income families to build assets, reduce their dependence on other forms of social assistance and break the cycle of poverty.
Vehicle Donation Quotation Form
Please note: By filling out the form below you are not committed to donating your car. Filling out this form will allow us to contact you with a quote on the price the charity of your choice will receive for your vehicle. All personal data is kept strictly private and will never be sold.