Food Banks Canada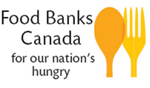 Food Bank Canada is the national organization that represents the food bank community across Canada. Our members and their respective agencies serve approximately 85 % of people accessing emergency food programs nation-wide. Food Bank Canada's mission is to reduce hunger in Canada by enabling an effective food bank community that addresses the short term need for food and longer term solutions.
Vehicle Donation Quotation Form
Please note: By filling out the form below you are not committed to donating your car. Filling out this form will allow us to contact you with a quote on the price the charity of your choice will receive for your vehicle. All personal data is kept strictly private and will never be sold.