Family Association for Mental Health Everywhere (FAME)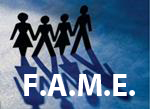 F.A.M.E. offers support to families where any mental illness is an issue by providing education, resources and coping strategies. F.A.M.E. is organized for and by families to reduce the stress of coping with mental illness by strengthening and supporting family members in our role as caregivers. We can provide advocacy, education, referrals and counseling to families that have a mentally ill relative of any diagnosis.
Vehicle Donation Quotation Form
Please note: By filling out the form below you are not committed to donating your car. Filling out this form will allow us to contact you with a quote on the price the charity of your choice will receive for your vehicle. All personal data is kept strictly private and will never be sold.