Children's Wish Foundation of Canada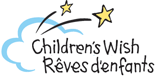 Each year, thousands of Canadian children between the ages of 3 and 17 are diagnosed with a life-threatening illness. The Children's Wish Foundation of Canada is dedicated to granting an exceptional wish to every child. We're a national Canadian charity with chapters in every province and territory. Since our founding in 1984, we've granted wishes to more than 18,000 Canadian children.
Vehicle Donation Quotation Form
Please note: By filling out the form below you are not committed to donating your car. Filling out this form will allow us to contact you with a quote on the price the charity of your choice will receive for your vehicle. All personal data is kept strictly private and will never be sold.