Children's Aid Foundation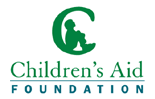 The Children's Aid Foundation (CAF) believes that every child deserves the chance to be a child. CAF has been committed to improving the lives of abused, neglected and high-risk children and youth. Each year, we assist thousands of young people across the country to break the cycle of generational disadvantage in which they are trapped.
Vehicle Donation Quotation Form
Please note: By filling out the form below you are not committed to donating your car. Filling out this form will allow us to contact you with a quote on the price the charity of your choice will receive for your vehicle. All personal data is kept strictly private and will never be sold.