Transport Action Canada - Algoma Passenger Train Campaign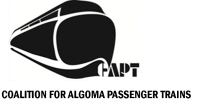 Algoma's passenger train has been providing wilderness access for adventure, recreation, tourism businesses, cottagers and travellers. Canada's famous Group of Seven Artists painted some of their most iconic art from this train. Tourism, recreationists, cottagers and travellers are very dependent on the Algoma passenger train. Canada's federal government has decided to stop funding the Algoma passenger train. Transport Action Canada is supporting the efforts of CAPTrains (Coalition for Algoma Passenger Trains) to save this unique and important passenger train that supports jobs and the economy of the Algoma region.
Vehicle Donation Quotation Form
Please note: By filling out the form below you are not committed to donating your car. Filling out this form will allow us to contact you with a quote on the price the charity of your choice will receive for your vehicle. All personal data is kept strictly private and will never be sold.