Back Packs for the Homeless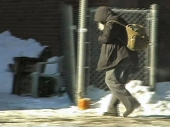 Members of St Paul's on-the-Hill Church in Pickering Ontario Canada, run a community outreach program called Backpacks-For-the-Homeless. Today, there are those who are living on the streets who don't even own a toothbrush or a dry pair of socks; and if they had them, they would have no place to keep them. Providing the essentials for those who are experiencing homelessness or living marginalized throughtout the GTA. This is done through providing back packs filled with gift packages including basic necessities, such as toothbrush & paste, socks, gloves, underwear, plus a few little extras all stuffed into a backpack.
Vehicle Donation Quotation Form
Please note: By filling out the form below you are not committed to donating your car. Filling out this form will allow us to contact you with a quote on the price the charity of your choice will receive for your vehicle. All personal data is kept strictly private and will never be sold.