VON Canada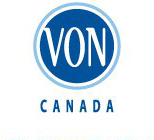 Serving more than a million Canadian's each year, VON is dedicated to being a leader in the delivery of innovative comprehensive health and social services and to influencing the development of health and social policy in Canada. We are a national health organization and registered charity offering a wide range of community health care solutions that meet the needs of Canadians from coast to coast.
Vehicle Donation Quotation Form
Please note: By filling out the form below you are not committed to donating your car. Filling out this form will allow us to contact you with a quote on the price the charity of your choice will receive for your vehicle. All personal data is kept strictly private and will never be sold.