Small Animal Rescue Society of BC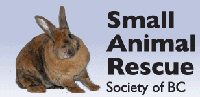 The Small Animal Rescue Society of BC is a registered society run by volunteers. Our primary focus is to rescue and rehome small animals in need. Neglected, injured and abandoned animals are our main priority. Small Animal Rescue works to provide a safe haven for small animals in need while promoting responsible pet guardianship through education, advocacy, and spay/neuter initiatives.
Vehicle Donation Quotation Form
Please note: By filling out the form below you are not committed to donating your car. Filling out this form will allow us to contact you with a quote on the price the charity of your choice will receive for your vehicle. All personal data is kept strictly private and will never be sold.