Reach for the Rainbow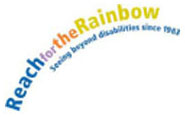 Since 1983, Reach for the Rainbow, a not-for-profit organization, has pioneered the integration of children and youth with disabilities into the mainstream of society through summer camp programs throughout Ontario. Our programs provide environments of inclusion for kids and youth while offering much needed respite for parents.
Vehicle Donation Quotation Form
Please note: By filling out the form below you are not committed to donating your car. Filling out this form will allow us to contact you with a quote on the price the charity of your choice will receive for your vehicle. All personal data is kept strictly private and will never be sold.