Canadian Rotarian Water Foundation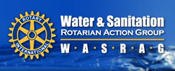 WASRAG (Water & Sanitation Rotarian Action Group) was launched on March 22nd, 2007. It was authorized by Rotary International in response to Rotarians' desire to have a more significant impact on the life and livelihood of people through the provision of safe water and sanitation.
Vehicle Donation Quotation Form
Please note: By filling out the form below you are not committed to donating your car. Filling out this form will allow us to contact you with a quote on the price the charity of your choice will receive for your vehicle. All personal data is kept strictly private and will never be sold.