Big Brothers Big Sisters of Canada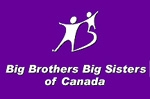 BBBSC is the leading child and youth serving organization providing mentoring programs across the country. Providing support to more than 1000 Canadian communities, our over 135 local agencies offer the service that the organization was founded on: One-to-One Matching. Men and women give of their time to become a mentor to a young person who can greatly benefit from having an adult role model to look up to.
Vehicle Donation Quotation Form
Please note: By filling out the form below you are not committed to donating your car. Filling out this form will allow us to contact you with a quote on the price the charity of your choice will receive for your vehicle. All personal data is kept strictly private and will never be sold.